Everyone knows that the best way to make money is to do flipping. But it is always a hassle to go to garage sales or look online for the best items. Well with direct liquidation, this problem is solved.
You can buy huge bulk of items for a fraction of the cost and sell each item for the original or close to the original price.
Sounds too good to be true? Well keep reading.
What is Direct Liquidation?
Direct liquidation is like a wholesale marketplace where you can buy items that were either overstocked, returned to the store, and end-of-life products.
For example, let's say Walmart has 200 iPhones from last year's model. The new iPhone just came out so Walmart needs to make room for them. So Walmart will sell all 200 iPhone for a fraction of the cost (huge discount).
Keep in mind that these items will be tested before being sold to you. If there were any problems with the item, it will be fixed before you buy it and it will be listed as refurbished or returned so you have all the information.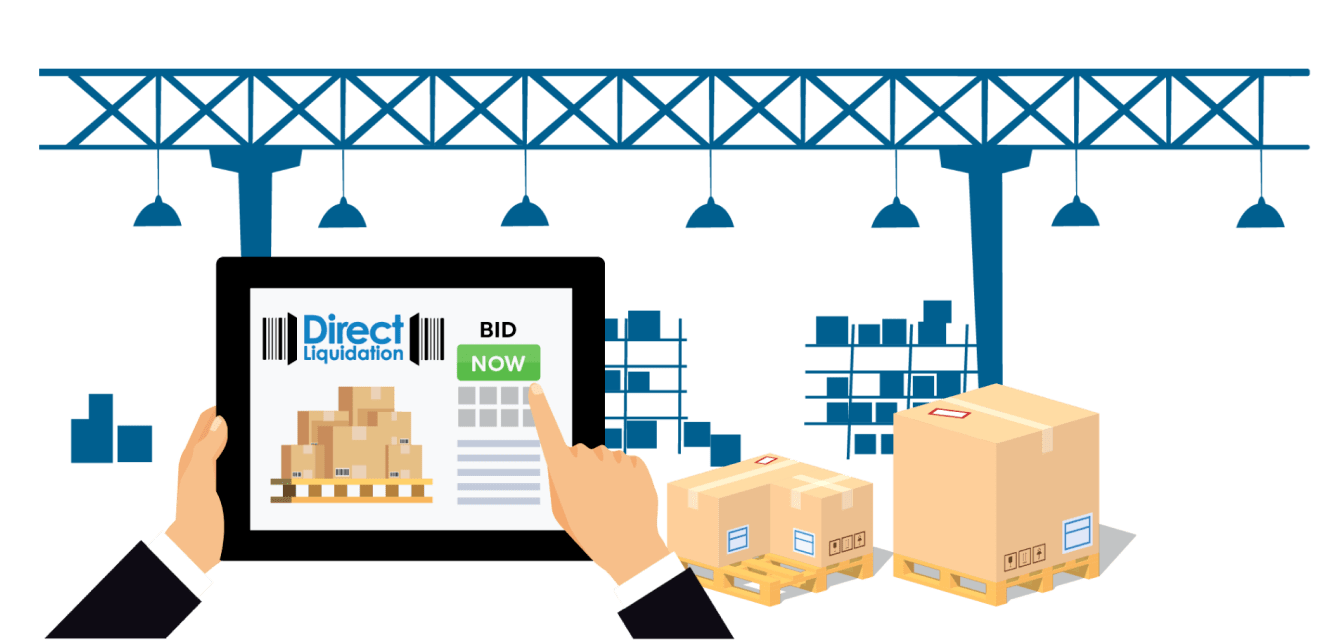 Is direct liquidation legit?
A lot of people think this might be illegal or the items might be stolen from some delivery trucks and sold to you.
This is not true!
Direct liquidation is 100% legal. And the pallets (or huge bundle of items) you purchase comes directly from big retailers like Walmart, Target, Amazon, etc.
Stores like Big Lot, TJ Maxx, Marshalls, and etc. use methods like direct liquidation to buy items for their store as well.
What are the best liquidation sites?
Now there are a lot of direct liquidation websites. Depending on where you live, there might be a site that works for you.
Keep in mind that all of these websites will have an auction. So you will need to put the best price for that pallet of items and outbid other people. Of course, some of them will also have where you can buy it for a price without an auction. Some websites will also sell items individually so you can buy just one item at a time if you would like to do it that way.
Here are some websites we recommend:
DirectLiquidation.com (Best one)
Liquidation.com
Toptenwholesale.com
Dollardays.com
BULQ.com
How To Make Money From Direct Liquidation?
Step #1 – Look for Items On Direct Liquidation Websites
You need to spend time looking for items or pallets on the websites mention above.
Remember sometimes you might need to bid in an auction in order to purchase that item or pallet.
Step #2 – Purchase the items or pallets
If you win the bid, you will be able to purchase the items or pallets.
Now, this is a pretty simple step. If you have ever purchased anything online, the process is the same for this.
If the wholesaler (liquidation website) is not close to you, you can get the items delivered to your house. Make sure to check this before checking out and paying.
Step #3 – Sort through your items
If you just order one item, you can skip this step. But if you ordered a pallet, you will need to sort it out.
We recommend sorting out similar items into piles first. After that, sort out items in those piles that look like they are in the best shape and could sell for more money.
Step #4 – List Item For Sale
All you need to do now is to list these items for sell.
You can sell these items on places like eBay, Facebook MarketPlace, Craigslist, and even Amazon.
How To Price Your Items?
Before you list your items for sale, you need to know how much to price them. This is actually very easy to figure out.
Go on websites like eBay or Facebook MarketPlace and search for your items. Look at what other people are selling the item for.
For example, let's say people are selling the AirPods for $99 ($199 for brand new). But you only paid $50 for each of them. So you can list yours at $99 or a little less at $89 so you can beat the competition.
Before you list any of your items for sale, make sure to price them all. If you purchased a pallet, you don't want to sell it for so cheap that you cannot make a profit for the whole pallet. For example, if you paid $800 for a pallet, you want to make sure that together with the price that you are selling all the items for is bigger than $800.
Conclusion
Direct Liquidation is just like flipping items to make money. But in this case, you are buying a bulk of items (or pallets) for a fraction of the cost. You are also buying these items that were returned, refurbished, overstocked or end-of-life from big retailers.